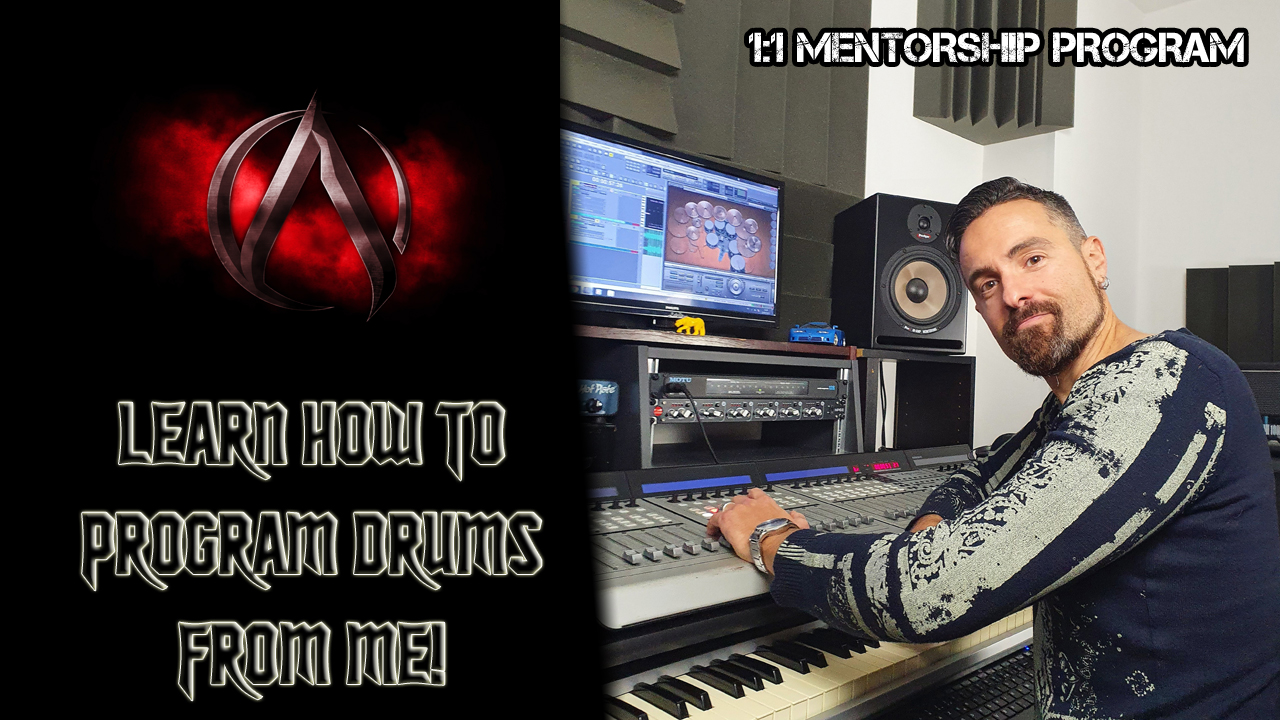 Do you want to learn how to program killer Drum Tracks at home from me?!
I'm happy to announce that I'm now offering 1:1 Mentorship/Lessons online where I will share with you all my techniques & knowledge and where we will create your own custom track together!
If you're reading this, chances are you're familiar with my full-length Drum Tracks that I've been producing for almost 10 years now.
My mission was, and still is, to change the way we write and record music and to make it easier than ever to make a Metal song.
I've created to this day more than 600 Drum Tracks in every possible genre of Rock & Metal that have gathered over 35 million views on my Youtube channel and thousands of sales on my website.
This has allowed and empowered so many musicians worldwide including guitar legends such as John 5 (Marilyn Manson/Mötley Crüe/Rob Zombie) to jam, practice & improve their skills on their instrument, write, record and release their songs with my Drum Tracks.
During that time, I've also produced hundreds of custom Drum Tracks and collaborated with many established artists including: Full Frontal Lobotomy (featuring Christian Machado from Ill Nino and Seth Binzer from Crazy Town), Roach & Weyden (featuring Jennifer Batten, Bret Garsed, Nili Brosh, Jack Thammarat), Rob Defaze and many more.
Today, and following many requests, I've decided to provide even more value to my fellow musicians by offering 1:1 Lessons on how to program drums.
This Mentorship is for everyone, beginner or advanced musicians.
I will teach you everything you need to know about programming drums for your songs and guide you step by step following the same method I personally use to produce my Drum Tracks.
What this Mentorship includes:
A detailed introduction to the softwares and the techniques I use to produce my Drum Tracks
Four 1:1 Live Video Sessions of 1 hour each where we will write & produce together 1 full-length Drum Track in a style of your choice that will be delivered to you with an exclusive license in its mix-ready multitrack version in Wav format and in MIDI as well so that you can use it in your next song.
Access to all my knowledge and experience. You will be able to ask me anything you want to know about programming drums or music production in general and benefit from my 15 years of experience as a producer.
Do you want to get started? Simply add the product below to your cart and proceed with checkout.
Looking forward to working with you and create some badass tracks together \m/
​After payment completion, your request will immediately be imported into my workflow and I will get in touch with you as soon as possible to schedule your first session.